2011.03.14
Yamanashi Prefecture Scheduled Power Outage
HP
http://www.pref.yamanashi.jp/english/news/PowerOutage.html
March 14th, 2011
Due to the Tohoku Pacific Offshore Earthquake happened on March 11, many power plants are currently suspended or experiencing difficulties generating electric power, causing a power shortage in the affected area.
As a result, TOKYO ELECTRIC POWER COMPANY (TEPCO) will be implementing scheduled power outage in Yamanashi Prefecture from March 14th, 2011. Each area will have three consecutive hours of power outage.
Please refrain from using electronic devices right before your scheduled power outage. In order to prevent fire disaster after the return of power, please unplug any electric thermal devices such as stove, iron, and blow dryer.
We ask for your understandings and cooperation. Thank you very much.
○ In Yamanashi Prefecture, power outage will be implemented according to the following five (5) different groups. Certain groups may experience more than one power outage session.
*due to safety checks, power outage schedule might not be exact.
Yamanashi Prefecture Power Outage Schedule for Monday, March 14th, 2011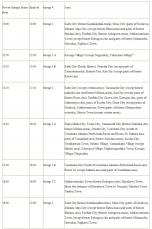 Power in Kosuge Village (nagasaku) and Tabayama Village is offered by Tepco Tama Branch.
Area names in brackets are former names
Detail information on power outage area and schedule will be carefully decided based on the need for next day's power supply, and the schedule for the next day will be announced at 5pm.